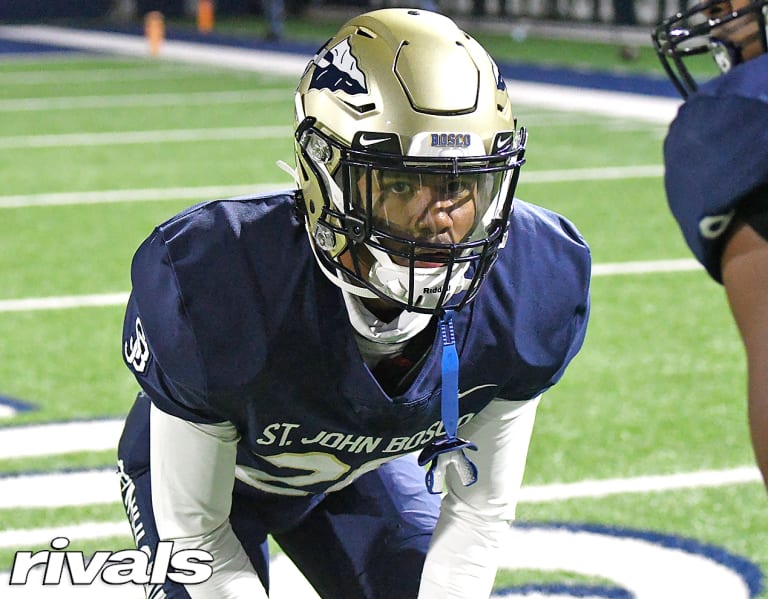 Rivals Rankings Week: Which 2024 DB Is the most underrated?
CLINT COSGROVE'S VIEW: Marcelles Williams
As the No. 15 corner and No. 148 prospect overall, Marcelles Williams debuts with a respectable ranking, but I think we will see him rise over time. There is so much to like about his play on film and I see him as a potential lock-down corner at the college level. Williams is extremely aggressive, has great feet, fluid hips and plays with extreme confidence.
One of my favorite traits about Williams' game is his ability to finish plays and win battles when the receiver is in perfect position to make the play. Williams is developed beyond his years as a press corner and is a natural when it comes to man coverage.
He is also blessed with a skillset to play off the receiver and be a standout in zone schemes as well. In addition to being a great player in his own right, Williams has great football lineage with one brother playing at USC and another playing at Arizona State. There is just too much to like about Williams for him not to rise in future rankings.
Oregon, Boston College, Ohio State and USC were early leaders in his recruitment, but with recent offers from Texas A&M, Texas and LSU, you can expect those teams to be in play as well.
*****  
ADAM FRIEDMAN'S VIEW: Kenneth Woseley
Woseley is starting out as a high three-star cornerback but there is a decent chance he makes it into the next Rivals250. The cornerback out of Philadelphia has speed and does a great job staying within arms length of his receiver. Woseley has an impressive offer sheet already but it will be interesting to see how he does this spring and summer during the camp and 7-on-7 circuit.
*****  
ADAM GORNEY'S VIEW: Marcelles Williams
After seeing the cornerback rankings shake out and then seeing four-star Marcelles Williams again last weekend at a camp, he feels too low. That will be adjusted as we work through the 2024 position rankings but Williams is technically as good as can be, he does an excellent job of poking the ball away, using his eyes and trusting himself to make plays and be aggressive without taking the bait.
The third of the Williams Bros. with Max at USC and Macen at Arizona State, Marcelles has grown up around defensive backs and now he's coming into his own. He has a respectable ranking as a four-star and No. 15 at the spot but he could be somewhat higher.
*****
RYAN WRIGHT'S VIEW: Zion Ferguson
Ranked as the 14th-best corner in the 2024 class, Ferguson can ball. His hips, change of direction and speed are there, but what makes him elite is his understanding of the game. Taking on 7A Georgia offenses, Ferguson sees his fair share of intricate offenses and complicated route combos rolling with the switches and rubs like a seasoned NFL vet.
The spring and summer months spent at 7-on-7 tournaments and camps will help bolster Ferguson as an underrated prospect worthy of second and third looks.