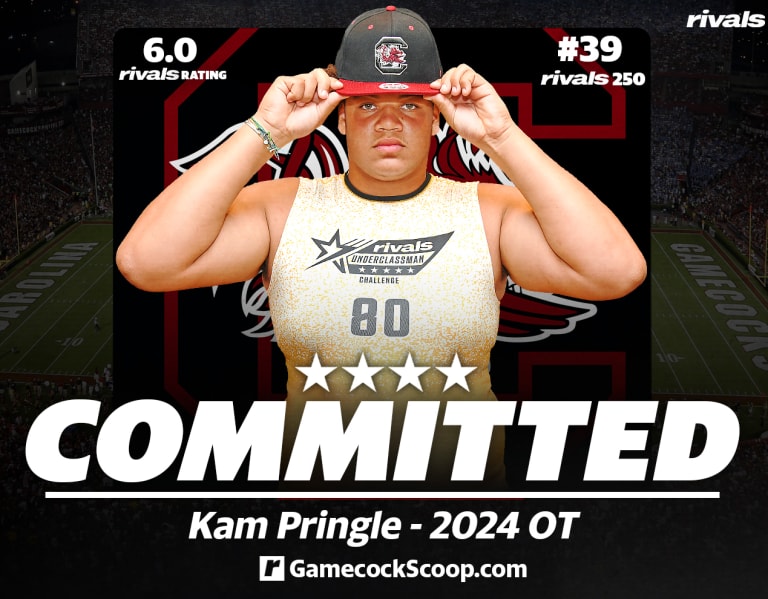 Rivals250 OL Kam Pringle breaks down his commitment to South Carolina
South Carolina already has their 2024 quarterback in Dante Reno and now the Gamecocks know who will be protecting his blindside. Rivals250 offensive tackle Kam Pringle has announced his commitment to South Carolina and head coach Shane Beamer.
The Dorchester (S.C.) Woodland star explained to Rivals.com why he decided to choose the in-state program over Clemson, Florida, Georgia, N.C. State, and Tennessee.
"They're maybe 40 minutes away from my front door," Pringle said. "I can go in there and play early. My mom grew up a huge South Carolina fan and today is her birthday. I feel like coach Beamer, coach Teasley, coach Adkins and everybody have what it takes to develop me for the highest level.
"They've been so consistent with me," he said. "I feel like every time I went up there it was completely natural. Everybody stayed the same each time from when they first started talking to me to today. They just always kept it real and stayed true.
"I think they're doing a phenomenal job recruiting," said Pringle. "I feel like they're some of the best recruiting coaches in the country. They do a really good job and I feel like the best players in the state should come there. They do a really good job recruiting. I feel like Clemson did a good job recruiting me. They came after me hard but it doesn't even compare to South Carolina. That just tells you how invested they are in the in-state kids and how invested they are to turn around the program. It was probably Florida in second for me and then Clemson.
"Dante (Reno) texts me everyday," he said. "It's been like that since the first day I met him. He was even hitting me up before we met. He's just as good as one of the coaches.
"I can promise you that I'll get Josiah Thompson, Blake Franks, and Mazeo Bennett to commit," Pringle said. "That's just the start with in-state guys. I'm also going to try to get Eddy Pierre-Louis from Florida. I'm going to try to flip Tavoy Feagin from Clemson too."
With the addition of Pringle, the Gamecocks have addressed one of their top priorities for the 2024 recruiting cycle. He's already one of the best offensive line prospects in the 2024 class and there is plenty of room for him to improve. Pringle has some elite athletic traits. He brings impressive mobility to the table for a player that last measured in at 6-foot-7, 328-pounds. Pringle slimmed down a bit this season so he is probably closer to 315-pounds right now. He is a very good run blocker, who can move defensive linemen off the line of scrimmage and land key blocks at the second and third levels of the defense. As a pass blocker, Pringle has shown flashes of dominance but consistency will be key as he progresses into his senior season and his college career.