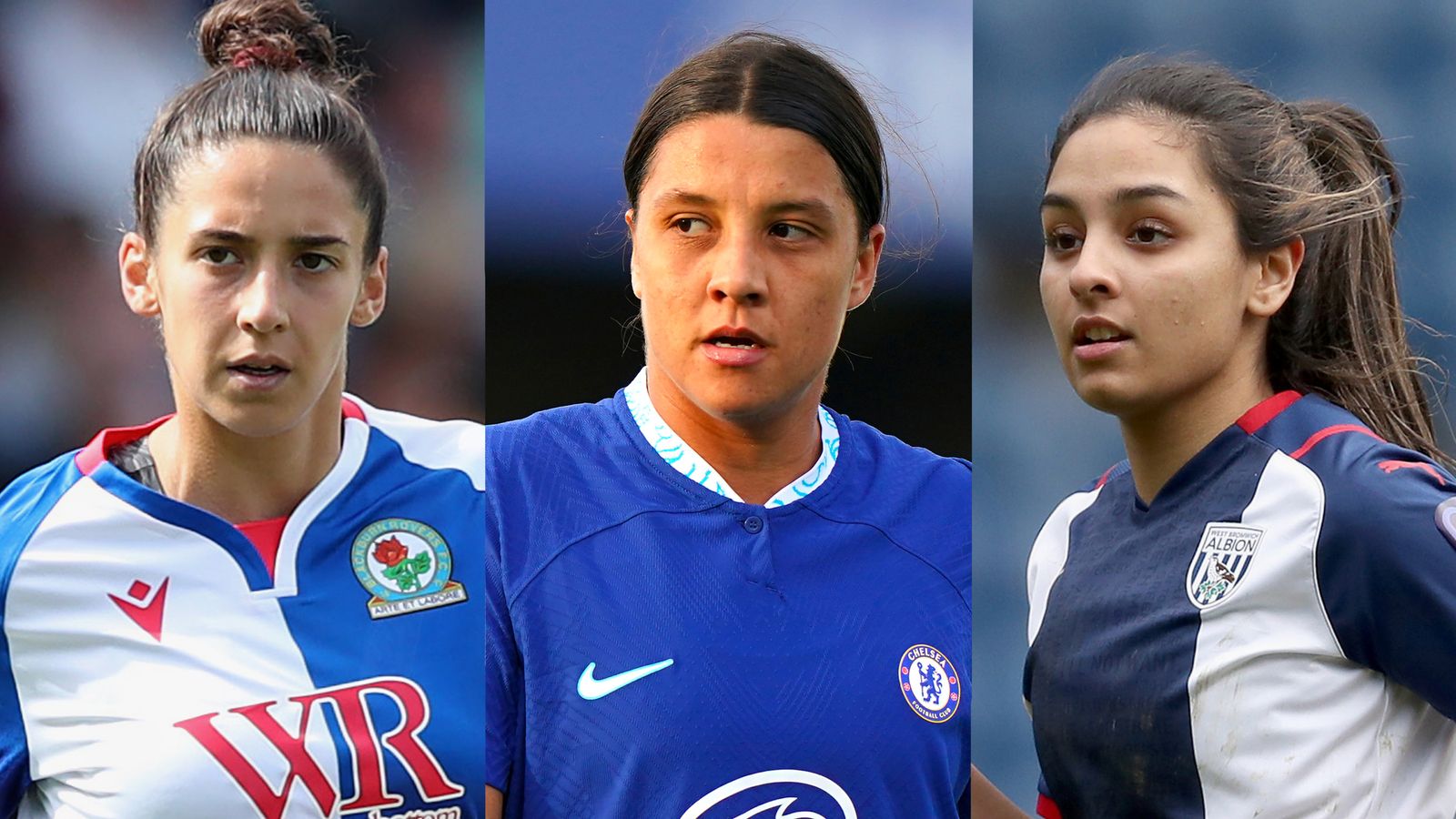 South Asians in Football: Timeline can inspire the next generation of women and girls, says QPR's Manisha Tailor | Football News
QPR's Manisha Tailor is convinced a first-of-its-kind timeline and display can help inspire the next generation of footballers from Britain's South Asian community.
Sky Sports celebrated the anniversary of its partnership with Sporting Equals by creating a timeline documenting the modern-day history of South Asian heritage female players in the English game.
Marking the evolution of women's football in the Women's Super League era, the timeline highlights 20 current and former players from South Asian backgrounds, who have blazed a trail in the game in different leagues across Britain.
Tailor, who features in the timeline, stepped up to become assistant head of academy coaching at QPR in 2021 and is the first South Asian woman ever to hold such a role in the English game.
Speaking at the unveiling of the timeline at the Race Equality: State of the Sector event, hosted by Sporting Equals at Stamford Bridge, Tailor said the role models that are showcased offer proof of what is possible for girls from South Asian backgrounds in the 'Beautiful Game'.
"It's brilliant because what it allows for is us to see that actually we do exist, and we are here, and there is a space for people like myself, who are looking to forge a career in the game," Tailor told Sky Sports News.
"With all these brilliant pioneers and players that are represented on these brilliant infographics – what that will do is inspire other young girls who are coming through the talent pathway to actually believe that it is possible for them to have a career in the game, and that is all we want.
"I think it is really important that we have visible role models," added Tailor, who has just been named in the Woman's Hour Women in Sport Power List 2023.
Manisha Tailor MBE says more work needs to be done to make elite girls' and women's football more representative of the nation.

"For me growing up in the early eighties, I didn't see people that looked like me. I didn't see many women who were from culturally diverse communities, who were involved in the game, so therefore it became very difficult for my parents to actually believe that there is a possibility for me to have a career on and off the pitch.
"But what is really important is that we do have those role models now and that visibility can then inspire the next generation of young South Asian girls."
'It's so humbling'
London FA director and member of the FA's South Asian Women in Football Advisory Group Yashmin Harun said it was impossible not to be inspired by the showcase.
"It's so inspiring, so humbling and so brilliant just to see the visibility off all these players and to see their pathways," Harun told Sky Sports News.
Muslimah Sports Association Chair and London FA director Yashmin Harun welcomes recent guidance issued to match officials to create an opportunity to allow Muslim players to break their Ramadan fast during evening games across the holy period.

"They have turned us from dreaming into believing and that's what we want to see for our young players coming through. They have got people to be role models, we didn't have that back in the day, so it's really positive.
"I know it has become a bit of a buzz sentence that seeing is believing but it really is true. If people don't see us in the game, if they don't see us in the industry, they don't believe that they can make it.
"This exhibition shows and highlights how people have made it and that will give players and young girls the pathway, the inspiration to believe that if they want to work really hard for it, they can make it."
The first turbaned Sikh referee in English league football, Jarnail Singh, told Sky Sports News: "I think it's an absolutely fantastic idea. It's a good way to hopefully encourage the next generation of semi-professional and professional South Asian girls in football."
'It's really big, it's really powerful'
London Youth sports programmes chief Radhika Kalia says the first-ever timeline documenting the history of South Asian heritage female players in the modern English game is really powerful

Football coach and London Youth Sports Programmes Officer Radhika Kalia thinks the timeline and exhibition can go some way to helping address the lack of diversity in the elite girls' and women's game.
"It's really big, it's really powerful and it's something I didn't have when I was younger, when I was growing up," Kalia told Sky Sports News.
"One thing that I've learnt, more so as an adult, is the importance of role models and giving them a platform and space to actually showcase themselves.
"I think that's also one part of getting more young people into sport – if you can see people doing the things that you want to do something where you might think: 'I can't do that, people like me don't do that' – but these women here are showing completely otherwise.
"And it's like they say, if you can see it, you can believe it, you can do it."
For more stories, features and videos, visit our groundbreaking South Asians in Football page on skysports.com and South Asians in the Game blog and stay tuned to Sky Sports News and our Sky Sports digital platforms.