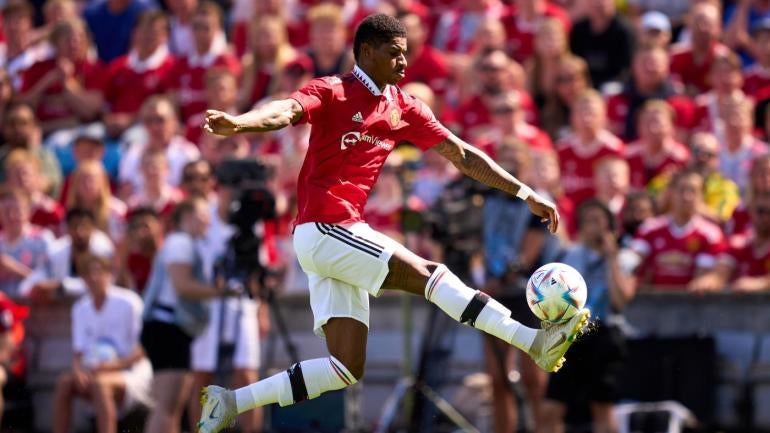 SportsLine soccer expert Martin Green has locked in his EPL picks and predictions for Leeds United vs. Manchester United on Wednesday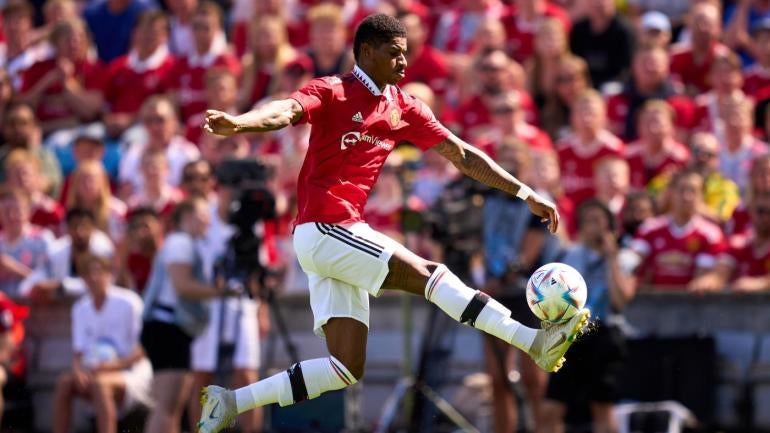 Two teams at opposite ends of the English Premier League table collide when Manchester United host Leeds United on Wednesday at Old Trafford. The Red Devils are pushing for a top-four spot and sit in third place in the EPL table with 42 points. They are coming off a 2-1 win over Crystal Palace on Saturday. Meanwhile, the Whites have endured a week of upheaval with the team sacking American manager Jesse Marsch on Monday. Leeds United are in danger of falling into the relegation zone, sitting in 17th in the Premier League table with 18 points.
Two teams at opposite ends of the English Premier League table collide when Manchester United host Leeds United on Wednesday at Old Trafford. The Red Devils are pushing for a top-four spot and sit in third place in the EPL table with 42 points. They are coming off a 2-1 win over Crystal Palace on Saturday. Meanwhile, the Whites have endured a week of upheaval with the team sacking American manager Jesse Marsch on Monday. Leeds United are in danger of falling into the relegation zone, sitting in 17th in the Premier League table with 18 points.
After working in the sports betting industry for several years, Green became a professional sports writer and handicapper and has covered the game worldwide. Since then, his European soccer picks have been spot-on. Green has generated almost $33,000 for $100 bettors since the 2017-18 season, and he has his finger on the pulse of the game all over the globe.
Now, Green has broken down the Leeds United vs. Man Utd matchup from all sides and just locked in his picks and Premier League predictions. You can head to SportsLine now to see his picks. Here are the betting lines and trends for Man Utd vs. LeedsWhy you should back Manchester United
The Red Devils have dominated the series against Leeds. In 28 previous Premier League matchups between the sides, Man United have 16 wins and eight draws. At Old Trafford alone, the Red Devils have 10 wins and four draws against the Whites.
In addition, Man United face a Leeds side that has struggled scoring recently. The Whites are scoreless in their last two matches – a 1-0 loss to Nottingham Forest on Sunday and a 0-0 draw to Brentford on Jan. 22. In six matches since play resumed after the World Cup, Leeds have scored just four goals.
Why you should back Leeds United
The Whites will be facing a Manchester United side that will be without six first team players on Wednesday. Among those out will be top playmaker Christian Eriksen, who is out until at least the end of April with an ankle he injured on Jan. 28. At the time of his injury he was tied for second in the EPL in assists with seven. Also, Casemiro, who is serving the first game of a three-game suspension, will not be available on Wednesday.
In addition, advanced stats suggest that Leeds have been unlucky offensively this season. The Whites rank 10th in the EPL in xG (expected goals) per game this season (1.55) yet they're averaging just 1.30 goals. The -0.25 difference between expected goals and actual goals is the ninth worst in the league.
How to make Leeds United vs. Manchester United picks
Green has analyzed this Premier League match from every possible angle. He is leaning Over on the goal total and has locked in three total best bets, including one that pays plus-money. Head to SportsLine to see his analysis and top picks.
So who wins Manchester United vs. Leeds on Wednesday? And where does all the betting value lie? Visit SportsLine now to find out which wagers in Leeds vs. Manchester United have all the value, all from the soccer expert who has generated almost $33,000 for $100 bettors since the 2017-18 season, and find out.Wrexham's dream of FA Cup glory, albeit one that bordered on the line of unrealistic, is over … for this season. The Welsh club, growing in popularity under the ownership of Hollywood stars Ryan Reynolds and Rob McElhenney and featuring on docuseries "Welcome to Wrexham," were eliminated from the competition on Tuesday in their fourth-round replay, falling to Sheffield United 3-1 on a pair of stoppage-time goals. But bowing out of the most important domestic tournament in the United Kingdom is no poor achievement. They nearly made it to the last 16, which can be viewed as a sign that this team is on the way up, despite being a long ways from where they want to be.
"I could not be more proud of those men than I am right now. They gave it absolutely everything," McElhenney wrote on Twitter after the match. "So proud of these boys. And the 4,000-plus away supporters who gave it all," Reynolds tweeted.
As this Cinderella-like run comes to a close, what comes next for the Red Dragons? For Wrexham supporters, both new and old, there is plenty to keep an eye on.League play and the chance for promotion
The club will be back in action on Saturday when they face Wealdstone in National League play. Wrexham find themselves in second place in the National League, the fifth tier of the English pyramid, with a 21-5-2 record and 68 points. They sit three points behind leaders Notts County with a pair of games in hand, which puts them well situated to take first and possibly win the league.
If that happens, Wrexham would automatically go to the fourth tier, joining League Two. That would put them three promotions away from one day potentially playing in the Premier League, though that would require years of patience, loads of investment and exceptional play on the pitch to achieve that dream.
If Wrexham don't finish in first, they will play in the National League play-offs for a spot in League Two next season. At worst, they should be guaranteed a playoff spot come season's end, but winning the league is well within reach.
Listen below and follow In Soccer We Trust: A CBS Sports Soccer Podcast where your three favorite former USMNT players cover everything you could possibly want to know about the United States men's national team.
https://communityin.oppo.com/thread/1262692876908232704
https://communityin.oppo.com/thread/1262693796408721417
https://communityin.oppo.com/thread/1262694323976667142
https://communityin.oppo.com/thread/1262694893839974405
https://communityin.oppo.com/thread/1262695573359427589
https://communityin.oppo.com/thread/1262696399259828233
https://communityin.oppo.com/thread/1262697023422595075
https://communityin.oppo.com/thread/1262697658456997891
https://communityin.oppo.com/thread/1262698207617220610
https://communityin.oppo.com/thread/1262698620680667144
https://communityin.oppo.com/thread/1262699553024114688
https://communityin.oppo.com/thread/1262700166550126594
https://communityin.oppo.com/thread/1262700647225491462
https://communityin.oppo.com/thread/1262701254200262660
https://communityin.oppo.com/thread/1262701777313857536
No more cup play
This loss to Sheffield concluded the team's cup play for the season. It came just after being eliminated from the FA Trophy as well, losing in the fourth round in penalty kicks to Altrincham. That means the team's only path to a trophy this season is by winning their league, but just being promoted would more than suffice. Galtier has rested Neymar of late yet brought him back against Marseille in the cup this Wednesday to little effect, and it has taken longer than expected to get him ready. Equally, Marco Verratti's injury issues and then untimely suspension did not help from a creativity standpoint.PSG failed to capitalize on the January transfer window and are facing major expenditure issues as they battle to keep their wage bill under control beyond the end of this season. Milan Skriniar's arrival from Inter Milan has to wait until this summer but a loan move for Hakim Ziyech also failed.
Perhaps most worrying of all, though, is just how sluggish PSG have looked lately with many of the post-World Cup outings similar to some of the performances that we saw under Mauricio Pochettino. Despite a few smart additions and a number of departures, it is many of the same players lining up under Galtier who featured for the Argentine.
Conceding in eight of 10 games since the World Cup is far from watertight and is a major concern ahead of the showdown with Bayern. The midfield has also struggled to pick up without Verratti and Carlos Soler as well as Fabian Ruiz have come under increased scrutiny of late given that they were expected to solve those sorts of problems along with the injury prone Renato Sanches.
Youngster Warren Zaire Emery has been a rare ray of hope in a dark winter period but the feeling is that the key lies in the system — Galtier started this season with a 3-4-3 system which PSG got used to and fared well with in a short space of time. The French tactician has rarely been able to utilize it in months.Since moving away from that due to a lack of defensive options with Nordi Mukiele also struggling for fitness, the overall form and chemistry has suffered. Getting Verratti, Neymar, and Ramos back for Marseille was important, but added emphasis has been placed on the fitness of Kimpembe and the form of Marquinhos and Ramos now that no central defender was signed in January.
By the end of this month, we could already know whether or not the World Cup killed PSG's season with the Coupe de France now gone for a second straight year and the Champions League well and truly in the balance. It was a classic trap game for Manchester United on Wednesday as they drew 2-2 with Leeds United at Old Trafford with the glaring takeaway being the lack of depth the Red Devils currently have. Leeds were led by caretaker manager Michal Skuba and American Chris Armas after dismissing Jesse Marsch and they wouldn't wait long before Willy Gnoto opened the scoring in the first minute of play before Crysencio Summerville forced Raphel Varane into an own goal to open the second half. United would fight back with Marcus Rashford and Jadon Sancho scoring to draw level but the dropped points are critical in the top four race with the team clearly not boasting the depth needed to turn around 2-0 holes. United are currently third with 43 points, just seven away from leaders Arsenal, but their top-four cushion over Tottenham is just four points.
Without Casemiro, Christian Eriksen, and Anthony Martial, Erik ten Hag's side struggled to open the match, falling prey to Leeds United's press. It was the most organized match that the visitors have played this season but it was one that showed how narrow their margins are for success. Weston McKennie received his first start of the season alongside Tyler Adams and it was a strong showing with the duo turning defense into attack and keeping the team ticking over.
They took advantage of the inexperience of Alejandro Garnacho and the unproven partnership of Fred and Marcel Sabitzer to press and score with ease. But when United turned up the presser with Sancho on the pitch, Leeds' defense came unstuck. But not able to find a winner, the Red Devils have opened a door for Tottenham to make the top four with this being a poor result on paper as ten Hag could be seen holding up his hands as he saluted the home supporters, essentially apologizing for the performance after the game.
Wout Weghorst was signed as an emergency striker but despite constant crosses to him in the box, he wasn't able to register a single shot in the match. In four Premier League matches for the club, he is still seeking his first goal. While Rashford was able to score when Sancho came on and he went to lead the line, United can't rely on Rashford every match or they're one injury from failure this season. Sabitzer did show some flashes though, forcing a tough save with a clever shot in the first half. Reaching the business end of the season, ten Hag will need to determine his best rotation as Casemiro will miss two more matches and Eriksen is still out for over a month. With another loss, United's top-four advantage could be down to one point and with tough games remaining, these depth players can't hide for United. They will have to step up and show more from the onset as the Red Devils have won just one of their last four league names.
It's why the light January transfer window from the team was questionable but if they gel, the summer will be much better. If they miss out on a top-four place, it could set back the progress that the team has made this season, all the while seeing the club's ownership future up in the air.
United return to the pitch Sunday against Leeds at Elland Road. It was not just that his Leeds United side had gone winless in the Premier League since the international break, or that they were hovering just above the relegation zone after a summer of significant investment. More than that, it was that the US head coach did not really have a sizeable run in his 11 months at Elland Road to convince his doubters that his team had what it takes to make themselves comfortable in the English top flight.
Only once did they go five top flight matches without defeat, a run where they met two soon to be relegated teams, two who would finish in the bottom half and Wolves. Aside from those games, there really were some encouraging moments. None were more memorably than the 3-0 win over Chelsea at the start of this season, a triumph of the high intensity, continual running that is Marsch's calling card. But results as spectacular as that came too infrequently, and ultimately all the coach could point to was performances.
He might have had a point. During his 11 months in charge, Marsch's side played like a firmly midtable team. Their expected goal difference (xGD) per game was -0.05; in the average game they played they were about equal with their opponent. Remove penalties from the equation and you have a team with the 10th best xGD in the top flight, firmly bunched up in a group that includes Aston Villa, West Ham and Manchester United.
Marsch's issue is that his brittle side, one who would impress you for half an hour then concede a bafflingly simple goal, had results in front of goal that never quite seemed to reflect their performances. They scored fewer than their xG and conceded more than the xG of the shots they allowed. "We keep finding ways to lose," he said in the days before the axe fell. Yet everything we know about expected goals is that they should eventually be reflected on the pitch. It is perhaps for that reason that director of football Victor Orta kept Marcelo Bielsa's successor in place for so long before sacking a coach with eight wins from 32 Premier League games.
Equally it would suggest that the USMNT players who seemed to be in such a conducive environment under Marsch need not fear what the future might bring under his successor. They might all have arrived since the end of last season but two of the triumvirate — Brenden Aaronson and Weston McKennie — were players that the Leeds hierarchy wanted before they appointed an American head coach. The Whites were in negotiations with Red Bull Salzburg in January 2022 as they attempted to sign Aaronson there and then, instead his arrival was announced four days after survival was secured. When McKennie arrived from Juventus on loan it was reported that he was a player that Orta and colleagues had been on the trail of since his time at Schalke.
That leaves only one player who might be reasonably termed a Marsch signing, not least because when Tyler Adams arrived he was rekindling a player-coach bond that went back to when he was 15 years old. But whoever succeeds Marsch would be mad to dispense with the USMNT captain, a player with the second most tackles in the Premier League. According to Statsbomb, no one in the English top flight had made more successful counterpressure regains as of January 10. Only three players win back possession more frequently in the middle third of the pitch than Adams: they are Rodri, Declan Rice and Thiago. That is not bad company to be in.
Aaronson's numbers are not as gaudy, but then he is younger and had not previously played in a top five European league. One goal and two assists is hardly an exceptional return for an attacking midfielder particularly when he has started 19 games and had just one direct contribution to a top flight goal since August. The 22 year old does a lot of other things fairly well, he is in the 66th percentile of Premier League attacking midfielders and wingers for shot creating actions and he gets the ball back in Leeds' possession in the final third a lot, once every 90 minutes to be precise.
Those are qualities that suit a player in the Leeds side that came before Marsch and, unless the club hierarchy take leave of their senses, they will suit whoever comes in next. Anyone who has seen McKennie in a Juventus and USA shirt can feel rather confident that he will bring similar energy, dynamism to Elland Road. Early reports of interest in Rayo Vallecano boss Andoni Iraola suggest that they are looking for another fit to the blueprint set down by Bielsa (Iraola's side average the third lowest passes per defensive action in La Liga this season, the sign of a team that press with aggression).
Leeds do not seem the type to rip up their identity just to survive. If they were, why would they have hired Marsch in the first place? And so while the departure of their compatriot might be disappointing news for Aaronson, Adams and McKennie it need not spell the end of their time at Elland Road. Leeds bought those players and hired that manager because they suited their footballing identity. They should be around for a while yet.
Manchester City have been accused of breaking financial rules by the Premier League as the result of a long-standing investigation. The current defending champions have been hit by over 100 charges over a nine-year span based on the findings of a four-year investigation.
City have consequently been referred to an independent commission with regards to the period between the 2009-18 seasons. The club has also been accused of failure to cooperate with the investigation since late 2018.
This is not City's first run with regulatory authorities. The club was banned from European club competitions but saw that ruling overturned by the Court of Arbitration for Sport in 2020. UEFA ruled that City seriously breached Financial Fair Play rules between 2012-16.
A Premier League statement has said that City breached rules which required them to provide "accurate financial information that gives a true and fair view of the club's financial position." Included in this information is the club's revenue, notably sponsorship revenue as well as operating costs.
According to the Premier League, City breached rules relating to UEFA regulations which include FFP from 2013-18 as well as the English top flight's profitability and sustainability rules from 2015-18.
There have also been further breaches which concern handing over full details regarding manager remuneration as well as player remuneration in the 2010-16 period. Roberto Mancini was City boss during the 2009-2013 period in question.
If those two can stay fit against Bayern, then PSG still have a chance, but they are not the only area of concern. Defensively, PSG have looked woeful of late with Presnel Kimpembe working his way back from a lengthy injury layoff, captain Marquinhos out of form and veteran Sergio Ramos suddenly struggling for form despite his goal vs. Marseille.
Welcome to America, Wrexham
Massive clubs from around the world regularly come to the United States to play in the summer, and we've seen Clasicos between Real Madrid and Barcelona played in Miami, mighty Manchester City took on Bayern Munich at Lambeau Field and much more. One of the next teams coming will be Wrexham, but with a different twist.That's right. This summer, The Soccer Tournament, a 32-team competition featuring 7-on-7 soccer being played in Cary, North Carolina, will feature Reynolds and McElhenney's club. The event will feature former U.S. Soccer stars DeMarcus Beasley, Heather O'Reilly, CBS Sports' Clint Dempsey and In Soccer We Trust's Jimmy Conrad along with YouTube personality Spencer Carmichael-Brown of Hashtag United. The tournament will run from June 1-4 with a prize of $1 million at stake.
Paris Saint-Germain are into a difficult February. Olympique de Marseille have already knocked them out of the Coupe de France, AS Monaco are up this weekend, Lille OSC, and OM come again in Ligue 1 as well as Bayern Munich in the UEFA Champions League. Some pessimists in the French capital already believe that the damage has been done and that this season will not amount to much, others believe that Les Parisiens will react favorably to the challenging circumstances. However, one thing is clear and undisputable: PSG have not been the same since the FIFA 2022 World Cup in Qatar.
Unbeaten across all competitions before the tournament, it did not take long for Christophe Galtier's men to be tripped up in Ligue 1. RC Lens and Stade Rennais both got home wins while Folarin Balogun's Stade de Reims also took points away from their trip to Paris, and they have now crashed out of the Coupe de France to bitter rivals OM.
Kylian Mbappe is out for the next few weeks and a major doubt to be fit to face Bayern at Parc des Princes next week despite Julian Nagelsmann suspecting that it is a bluff. That is despite the France international being given time off post-Qatar, having returned early to help the team in the immediate aftermath.
Mbappe has often been there to bail his team out under both bosses but now that the Frenchman is absent, there is added emphasis on Lionel Messi and Neymar in attack. The World Cup winner has remained fairly productive since returning to domestic action but the Brazilian has struggled, yet both were in incredible early-season form ahead of Qatar. Messi did not have the desired impact against Marseille, however.