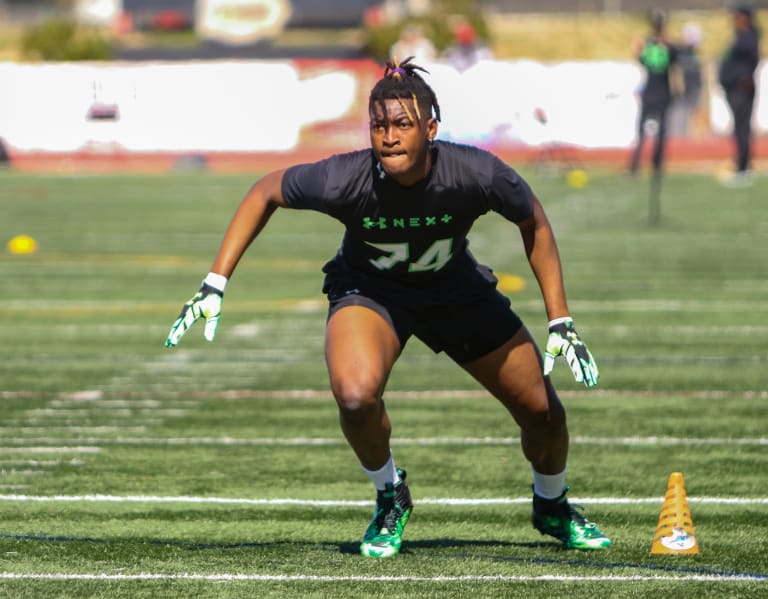 Sting Factor: Collins Acheampong flips from Michigan to Miami
When Collins Acheampong visited Ann Arbor the four-star defensive end felt he belonged there.
The Rancho Santa Margarita (Calif.) Santa Margarita Catholic prospect had developed good relationships with the Michigan staff, those coaches had developed other defensive ends for the NFL and the mix of athletics and a great education was incredibly appealing.
Before he committed to the Wolverines, though, Acheampong delayed his decision – and now it's more clear why: Miami kept sticking out in his mind.
Over the summer, Acheampong picked Michigan and was seen around the Southern California circuit supporting the Wolverines, but through an injury this season the Miami coaches never backed down, kept coming after him and on Tuesday the Hurricanes flipped the four-star defensive end.
Acheampong has not played a lot of football. He came to the United States from Ghana with the intention of playing basketball. Then COVID hit, his old school didn't have football any longer and he transferred only to get hurt in his senior season.
Still, he is an athletic and physical specimen and has a ton of upside despite not playing a lot of football yet. Under coach Mario Cristobal's tutelage, he could end up having high-end status.
He was impressive at the Los Angeles Under Armour Camp this offseason and at a few 7on7s, but as far as on the field there remains a lot of untapped potential.
"While losing a four-star recruit can't be brushed aside, if there is one position that Michigan could afford to lose a recruit, it's at defensive end. The Wolverines have a track record of developing talent no matter the star ranking of EDGE recruits, which makes me think the program can absorb blows like this. Regardless, losing a talented guy on defense is never a good thing." – Josh Henschke, MaizeandBlueReview.com
Sting Factor: 6
I have mixed feelings about this decommitment because Acheampong is a great-looking prospect with tons of potential, but right now it's just that: potential. He's very unproven and has not played for any extended period of time against elite competition. At the camp I saw him at this offseason he looked great, came off the edge well, probably needs to be more physical to have an early impact on the college level and it's clear he's still learning the game. Michigan could have done wonders with him and Miami definitely has great coaches in place to make him something special, but I don't think it happens for at least a couple years down the line. – Adam Gorney, Rivals national recruiting director
Sting Factor: 6