Ten Hag is enjoying his 'firsts' as he targets a trophy laden era
Ten Hag is enjoying his 'firsts' as he targets a trophy laden era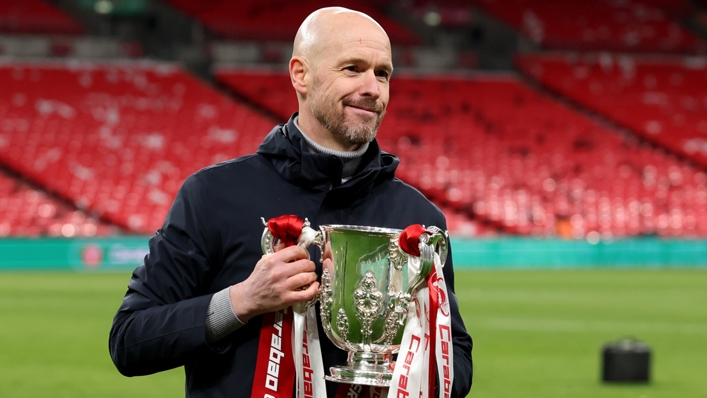 Erik ten Hag holds the EFL Cup trophy after Manchester United won at Wembley
Erik ten Hag believes success can breed success at Manchester United after The Red Devils' trophy drought ended at Wembley.
Casemiro's header and an own goal from Sven Botman gave the Red Devils a 2-0 win over Newcastle United in Sunday's Carabao Cup final.
It gave the Mancunian giants their first major trophy since Jose Mourinho's side won the Europa League in 2017, and there could be more to come in Ten Hag's debut season as manager.
They remain in the FA Cup and Europa League, and while a Premier League title push still seems unlikely, it's not entirely out of the question.
Ten Hag told Sky Sports: "First you have to win the first one, and that's what we did today. I think you get a lot of inspiration from this, but also more confidence that we can do it.
"I think we are in the early stages of getting Manchester United back where it belongs and that is winning trophies and this is the first one."
He saluted the players who ended the club's infertility, saying: "They were very connected with each other, they also challenged each other. In difficult moments, they helped each other. It's good to see that, and I think it's the best a manager can get him ."
He suggested that the coaching team and staff should celebrate late into the night, not the players, given United's FA Cup game against West Ham on Wednesday.
Even though it wasn't a brilliant performance by the Dutch team, Ten Hag was more than satisfied.
"We're back to having the right spirit, a really good team spirit. It's not always the best football, but I think it's effective," he said.
Pointing to the influence of senior figures, the former Ajax boss added: "I said before the game that Rapha Varane, Casemiro, David De Gea, they know how to win trophies.
"You need players like that on the pitch to direct the team, coach the team, manage the team. Not only from a tactical perspective but also especially from a mental perspective, it's very important.
"A winning attitude, they have to bring it into the locker room, they have to bring it into the team in difficult situations."