Ten Hag was furious with the referee for the red card and penalty call
Ten Hag was furious with the referee for the red card and penalty call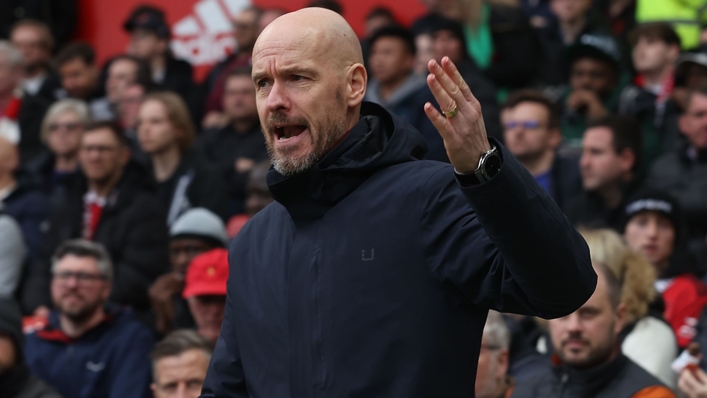 Erik ten Hag is frustrated on Sunday
Erik ten Hag has complained of a lack of consistency in refereeing decisions after he was frustrated by Anthony Taylor's display in Manchester United's draw with Southampton on Sunday.
United could only manage to draw 0-0 at Old Trafford after Casemiro was shown a straight red card in the first half – the Brazilian giving the order to challenge Carlos Alcaraz.
Taylor initially showed Casemiro a yellow card but was upgraded to red after a VAR review, leaving the United midfielder clearly distraught after replays showed he won the ball before catching Alcaraz.
It means Casemiro is the first United player to receive two red cards in a Premier League season since Nemanja Vidic in 2013-14, and he will serve a four-game ban instead of three for it to be his second sacking.
The tackle was not too dissimilar to the incident on Saturday when Ricardo Pereira caught Joao Felix with the studs and escaped punishment completely, and this was at the heart of Ten Hag's frustration, having also seen several penalty appeals go unheard.
"What I think is the inconsistency; the players don't know what the policy is anymore, and I think it is in all [every competition]," Ten Hag told reporters.
"We saw it with the Premier League yesterday: Leicester-Chelsea, VAR is not online. Today, VAR is online.
"And then there were two penalty situations, but they weren't online. Especially the first one, clear and obvious handball, so what's the policy?"
Ten Hag was asked if he sought clarification from Taylor after that, although he was apparently dissatisfied with the result.
"Of course, we talk but not much, so we [still] have a few questions," he continued.
"There's one more thing: inconsistent. The refs come in at the start of the season with policy; we are [in the] Premier League, it gets strong here, we want intensity [in the game]."
Ten Hag also felt that slow-motion and freeze-frame VAR review was unhelpful as he believed it made things look worse than they actually were.
"Everyone who knows something about football, and of course, when you freeze it, it looks bad," said Ten Hag. "But everyone who knows something about football, who acts on football, they know what is bad, what is not bad and what is fair.
"And let me tell you: Casemiro is a very fair player. Tough but fair.
"Casemiro played all European games, more than 500 games he never got a [direct] red card. Now he has two.
"Think about it. He played tough, but he played fair. And also in this case, he played fair, just like against Crystal Palace, so it's debatable.
"And if they isolate one [incident] – it's a bit of the same against Crystal Palace, for sure.
"When you see that incident, you should get three or four players off and not just one [Casemiro], if you are really consistent."