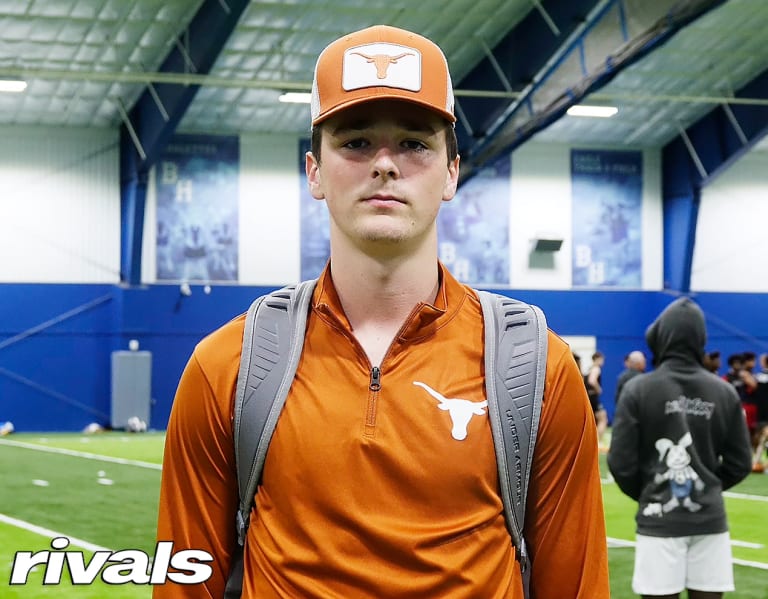 Texas commit Trey Owens discusses mindset going into Ewers, Manning QB room
MONT BELVIEU, Texas — Just three weeks after signing a top three 2023 class, Texas added an integral part to its upcoming 2024 class with a commitment from Cy-Fair (Texas) quarterback Trey Owens on Jan. 11.
For Owens, the thought process behind locking it down early goes into being able to focus on his development going into his senior season as well as helping to recruit other 2024 prospects early on.
"I feel like it's a big relief off my chest because now I can focus on school ball going into my senior season," Owens said. "Leading into it, I sat down and talked with my family and kind of thought there was no reason to sit around and wait. They gave me everything I needed. I felt confident going into it and that's why I made the decision."
Owens' commitment in 2024 comes on the heels of Texas signing former No. 1 overall prospect Quinn Ewers in 2022 as a transfer and current No. 1 overall prospect Arch Manning in the 2023 cycle, but the Houston-area product is looking forward to entering that room and learning from the quarterback talent in Austin alongside Steve Sarkisian.
"I know I have Quinn and Arch there, so it's a big competition but it's also gonna set me up for greatness," he said. "I'll work behind them two and potentially compete for a top spot after a couple of years."
Going into his recruitment, Owens leveled the playing field from a program-basis, and it allowed him to find which fit was best for him.
"I would say I have grown closer to them," he said. "I wouldn't say that I was a Texas fan growing up, but it's been there and it's a really good school. I love Austin and it's a nice place to be."
The commitment from Owens comes on the heels of a strong junior season that earned him double-digit offers including his offer from Texas on Nov. 3. Going into his senior year, Owens is locked in on making the most of it with his teammates.
"Getting faster, bigger, stronger," he said about his offseason goals. "I'm not gonna shy away playing my senior year in favor of college. I know a lot of people do that, but I still got a senior season and I owe it to all of my teammates that have worked for it."
At 6-foot-5, 200 pounds, Owens is the No. 22 ranked pro-style quarterback in the country for the class of 2024, according to Rivals.