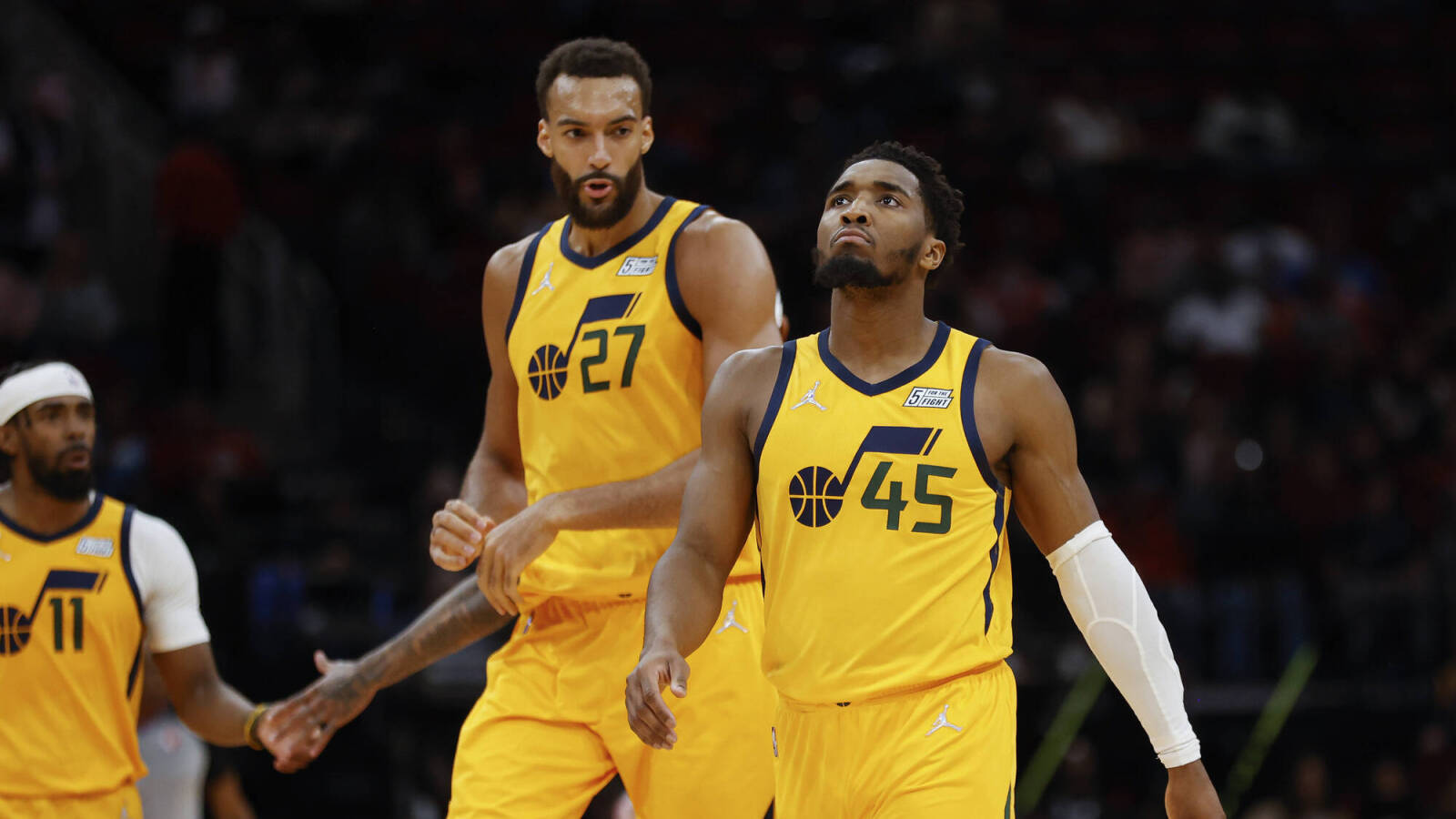 The impending divorce of the still excellent Jazz
Perhaps it was Joe Ingles who was keeping this all together. In early February, the veteran forward was traded from the Utah Jazz, and the team hasn't been the same since. They have won, yes — that has been a staple for the regular season Jazz during the Quin Snyder era, as they have finished no worse than fifth in the Western Conference over the past five seasons. There has been an unmistakable difference in the tenor of the success since Ingles left, though; the Jazz are close to 50 wins as the season winds down, but rarely has victory seemed so acrimonious, and like such a prelude to roster explosion.
This was never more apparent than when Snyder launched into one of the more "doth protest too much" monologues of the modern NBA. During his pregame availability, before a victory over the Memphis Grizzlies (a conquest that would take the headlines, in any other context), Snyder contested growing narratives about the lack of love between star players Donovan Mitchell and Rudy Gobert. In a reportedly 19-minute speech, Snyder depleted his apparently extensive armada of hand gestures in an attempt to debunk the relevance of trending statistics about how often Mitchell looks off Gobert — in pick-and-roll, in the post, or really any other time. There are centers in the league, and not even the notorious playmaker kinds, who assist their guards more often than Mitchell assists Gobert.
It goes without saying that Snyder is probably not actually too worried about the ethics of statistical journalism in NBA media. His professional concerns are more internal than P.R.-centric, and where there is 19 minutes of corrective media-facing smoke, there is surely a fire that it emanates from, within the walls of the locker room. If the Jazz are able to take Snyder's cue and aggressively reverse what everyone thinks about them with a deep, inspired, synergistic playoff run, maybe the flames will be snuffed out. Otherwise, it appears that as the team ratchets up for the postseason, a number of them are also preparing to say goodbye to each other.
Gobert, of course, needs to be fed to have any impact on offense. He is more classical than new-aged as an offensive big man — his value comes off the ball and near the rim. If he has to put it on the floor even once, the dizzying height of his dribble could lead almost instantaneously to a turnover. Gobert does not shoot with range, either. We're not talking about Nikola Jokic or Joel Embiid here, or even Nikola Vucevic. Whatever he may think of himself, Gobert's skill set with the ball is not close to what it is without it, and is limited to quick strike moments. That's always been true, and he's taken roughly the same amount of shots this season as he has throughout his career, with Snyder and Mitchell running an offense that prioritizes actions ending in clean looks from beyond the arc.
It's hard to argue that this hasn't worked: the Jazz have the highest offensive rating in the league after finishing fourth last season. Their defense has dropped from third to 11th, though, and herein lies the rub that's taken Utah from swinging harmonies to the chucker's blues. After a recent loss, Gobert said that the Jazz "never get [their] hands dirty," clearly bemoaning the way that his teammates all too often just chill the heck out on the defensive perimeter, leaving him as the sole mistake-erasing janitor on the backline. Mitchell, who came into the league as a tantalizing defensive prospect but has since focused inordinately on his breathtaking deceleration and pull-up game, is a top culprit. So are Mike Conley, Jr. and Jordan Clarkson.
The ever-rugged Royce O'Neale provides relief, but otherwise Gobert's complaints are valid. Without Ingles, they are smaller, less communicative, and less capable of keeping their beef in-house. It doesn't help when Bojan Bogdanovic is out of action, either: after the Jazz lost five in a row on the tail-end of a Bogdanovic absence, they then won three out of four games upon his return. An Ingles-like injection of size, shooting and bonhomie, the Croatian is still unlikely to be enough of a vibes stop-gap for the Jazz to stave off the Mitchell-Gobert divorce.
Mitchell is one of the best in the sport at what he does on offense, and does not want to hear about how he should be passing more to his middling offensive big man this often, especially not so loudly in public. Gobert is the greatest one-man defense we've seen in a while and tires of Mitchell and Co. abusing his largesse by constantly putting extra paperwork on his desk in the rim protection department, all the while not giving him any extra glow on the other end of the court. The division of labor has worked pretty well on paper, but the human toll is increasingly seen, and the basketball ecosystem in Salt Lake City appears to be crumbling despite still functioning at a very high level. Let it be a lesson in an industry where pure effectiveness is so often not quite enough.