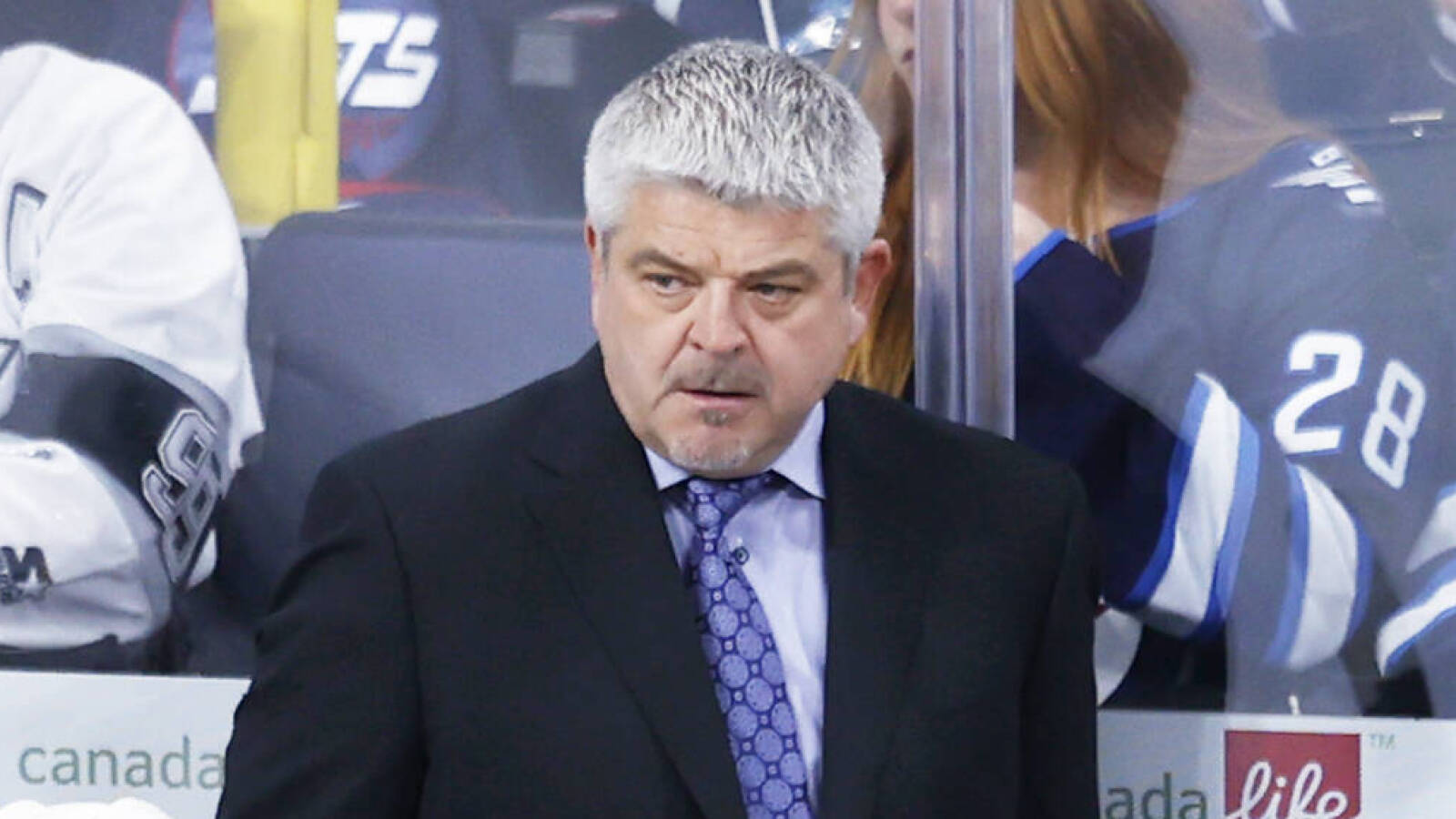 Todd McLellan gets bloodied Los Angeles Kings off the mat
Technically, the Stanley Cup playoffs begin May 2.
But the calendar in the upstart Los Angeles Kings' locker room is a bit different. It appears to consist of only two days: today and tomorrow.
You can almost hear head coach Todd McLellan exhale as we catch up on the phone during a rare break in their schedule that sees two days between games. It's the first time since March 19-22 that's happened.
"We finally get to breathe," McLellan said. "We need it."
And so you might think that with a little room to "Aaaahhhh," there might be a temptation to take stock, to maybe stand back as one does from a house under construction and nod approvingly.
And to be sure McLellan, has been asked about the state of the surprising Kings and there have been discussions about all that in the Kings' offices. But those discussions don't take place — and in some ways don't really have a place — amongst the players themselves.
"We, at least I have (had the discussions), with the media and management where we talk about the opportunities that have been created through our strong play during the season, but also through the injuries," McLellan told Daily Faceoff this week. "And all of that is really good for our team.

"But to actually sit back and evaluate and review, we're just living day to day right now. We've been plugging so many holes with kids from the minors, going through so many injuries, that we haven't had time to slow down, and perhaps that's been a really good thing for us. We live day to day and it's probably been a good recipe for our group."
With three weeks or so to go in the regular season, the Kings are not only well-positioned to return to the playoffs for the first time since 2018 but could very well end up owning home-ice advantage in the first round. This despite having lost 362 man games to injury as of earlier this week, a total that climbs with every passing game given their ongoing health issues.
Lots can change in the last three weeks of the regular season, but it's fair to say that, of the 16 teams likely to qualify for a shot at the Stanley Cup on May 2, the Kings were the team least expected to be in that field if you'd polled the hockey community back at the start of the season.
And that is perfectly okay for the Kings.
"We're already in the playoffs," McLellan said. "That's the thing, that's the magnificent thing about where we're at right now. For us, the playoffs are on right now. We're not playing the same team for seven games straight, but we're in a must-win situation every night. And the lessons that are being learned and taught and absorbed, playoff lessons at least based on my experience, we're already earning them or gaining them."
The Kings' journey to this point in their evolution provides a template on how to navigate the emotional roller coaster from the rags-to-riches-to-rags arc.
From 2012 through 2014, the Kings were at the top of the hockey world. They won two Stanley Cups and went to a Western Conference Final in between. They occupied a prominent position in the crowded southern California sports and entertainment world.
The Kings were cool and hot all at the same time.
And then came the inevitable decline.
Since their Cup win in 2014, the Kings have made the playoffs just twice, losing in the first round both times.
Management has changed. The coaching staffs have changed.
When McLellan took the head-coaching job in 2019, hired by his former player and now Kings GM Rob Blake, McLellan knew what he was signing on for, although he points out that the decision to rebuild is sometimes the least daunting part of a task like this.
"The teardown's the easy part," McLellan said. Because management, with input from the coaches, decides on the timetable, who goes, who comes in, when it happens. The growth of the team or the building of the team often comes at somebody else's schedule, and that would be the players'. How quick can they develop? How fast do they pick things up?"
Well, that and finding the right people to guide those players on the journey, whether it's scouts, management, development staff and in the end, most importantly, coaches like McLellan.
The Melville, Sask., native coached in Swift Current of the Western Hockey League, won a Calder Cup with Houston of the American Hockey League, won a Stanley Cup in 2008 as part of Mike Babcock's staff in Detroit and then went to the playoffs in his first six seasons as an NHL head coach in San Jose, twice taking the Sharks to a Western Conference final.
But in his last seven seasons as a head coach, McLellan has been to the playoffs just once: in Edmonton in 2017 when his Oilers lost in the second round to Anaheim.
So the playoffs have been an elusive commodity for McLellan, too. The journey of this team back to having a shot at the big prize might thus seem as rewarding for McLellan as it is for the players, even if he would never put it in those terms.
"It's never about me. It's about the group," McLellan said. "As for me, I don't think that way. Just a day at a time. It's not about Todd getting back to the playoffs. Not one bit. I'd never think of it that way. It's the group."
You would expect nothing less from McLellan, but the Kings perhaps as much as any team this season reflects how absolutely critical it is to have the right people in the right spots in your organization if you're going to get up off the mat.
The team has employed 38 different players as of this week, including 14 different defensemen, tying a franchise record. On March 15, all six defensemen who started the season on the blue line for the Kings were out with injury.
The team lost future Hall of Famer Drew Doughty in Game 5 of the regular season and Sean Walker, another top-four defender, the next game.
"That was our 'Holy s–t' moment. What are we going to do?" McLellan said. "And it took us awhile to overcome it and to realize that, hey we're OK. Would we like to have them here full time? Of course we would. But when this rash of injuries happened, we were losing one or two players a night for 10 days straight, it seemed like."
Doughty returned to action, got COVID-19 and is now injured again. At one point the team was down nine regulars from its everyday lineup.
McLellan's staff includes longtime NHLer Marco Sturm, who coached Germany to a silver medal at the 2018 Olympics; veteran NHL player and coach Trent Yawney; and highly regarded goaltending coach Bill Ranford. They've all had to pivot from how they might have ordinarily approached their coaching tasks.
"It's forced us to present a little bit different and to adjust a little bit different. Our structure has been the one thing that's got us through. The American League team plays the same way we play up here, the language for the most part's the same, so plug and play is comfort for a lot of those players coming in," McLellan said. "It's the stress and pressure of being in the National Hockey League. And the consequences for a mistake are bigger. The pressure is greater and as a result as coaches, where we may have been more direct with some individuals, we're softening the corners a little bit when we talk to them. We're really trying to accentuate the positive. If somebody made a mistake and we've got to work for it, let's find a good positive clip before we use the negative. And catch them doing it right and then fix the wrong. It takes more time, it takes a little more work, but we've made a conscious effort to try and accentuate the positives, create confidence. We use that term a lot. Create confidence."
If that's not the kind of coaching adjustment that gets you on the Jack Adams Trophy ballot, well, we're not sure what is, then.
The silver lining people often talk about vis a vis injuries is that it creates opportunity for someone else. The reality is that in many cases, those players aren't quite ready for the opportunity and teams sink beneath the weight of the loss of critical pieces. It's natural. Which makes what has happened in Los Angeles somewhat unnatural.
"I think there's something to be said about that, because, with the injuries that we've had, the group as a whole – and it might be coming – but the group as a whole hasn't had to sit back and say 'Oh, I wonder if so and so is coming back and whether I'll get sent down?' or, 'I wonder if I'm playing the next game?' " McLellan said. "For the most part, if you played the night before, you're paying again. That's just how it is. That's how many players we have.

"It's allowed us to create confidence, coach to coach, player to coach, teammate to teammate in these young players that have come up. We have no choice but to play them and they've produced. It's really been a snowball effect so far but we'll start to get some people back and we'll have tough decisions to make, and that is a sign of progress in an organization when that happens. We're moving the needle a little bit and we've got to keep it going."
We spoke with a longtime Western-based scout recently about McLellan and the Kings. The scout raved about how the Kings' team play and the emergence of a player like Trevor Moore, who came over from Toronto in the Jack Campbell/Kyle Clifford trade last season. Moore leads the team in points since December 1.
"He's a fricking good player for them," the scout said.
He also pointed to Kings' draft pick Jordan Spence as someone who has fit nicely on the back end.
"Really good," the scout said. "They've got some sneaky-good guys they've picked up."
Over the next three weeks, the decisions confronting McLellan and his staff are likely to become more difficult as players get ready to return to action.
Matt Roy and Brendan Lemieux are close.
Dustin Brown, Blake Lizotte and Andreas Athanasiou are a little further away but not too much. By playoffs, it's possible Mikey Anderson and Doughty will be back.
"To see the evolution of a group of players, to see the young, old and everything in between consistently put a good game on the ice night after night is rewarding for everybody," McLellan said. "From Jordan Spence, who's played 10 games with us, to Anze Kopitar who's just played his 1,200th. Throw in the training staff. The management team. Scouts. Everybody. There's a piece that everybody holds as teams go up and teams go down and we've been down enough that it hasn't been a lot of fun. But now as we're climbing and we're evolving, there's a little piece for everybody involved in it. It's good to see. It's almost like a classroom near the end of the year where they're getting ready to move on to the next test. The next grade, if you will."