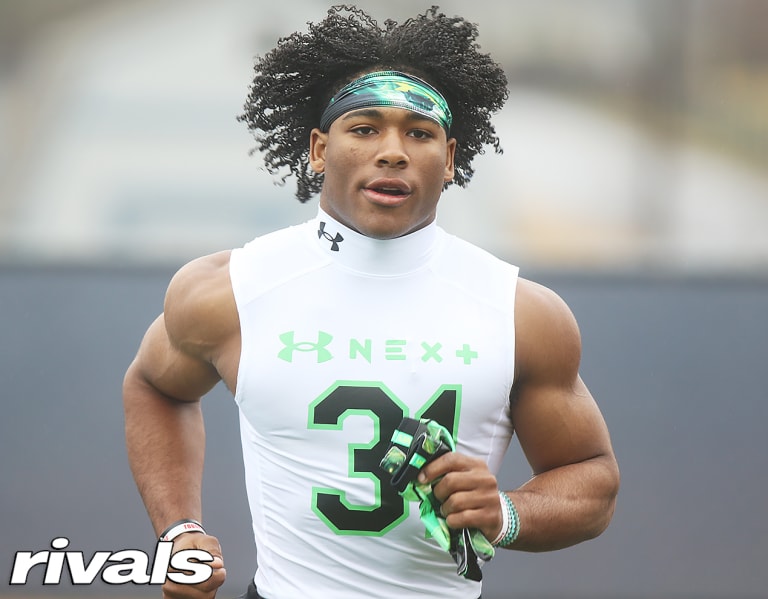 Tuesdays with Gorney: How things may shake out with top RBs
Rivals national recruiting director Adam Gorney is hearing a lot of news and rumors surrounding many of the top running backs in the 2023 class. In this week's Tuesdays With Gorney, he dives in with what's going on and offers some thoughts on how it could all play out:
Justice Haynes is a Georgia legacy, an in-state prospect and someone who has clearly been a top priority for the Bulldogs' coaching staff for a long time.
It's clear Georgia should also be considered the front-runner – those coaches are not chasing someone who is looking elsewhere all that much – and so if Alabama or Clemson comes in and steals him away then it would be considered a pretty serious surprise.
Haynes visited Tuscaloosa this past weekend and absolutely loved everything about it. Counting out the Crimson Tide for anybody would be foolish but by all measures, Georgia is sitting pretty with the No. 1 running back in the country.
After that, there are lots of unanswered questions.
Georgia has had an interesting focus on another running back in this class and have made serious runs at Rueben Owens II, the No. 1 all-purpose back, and four-star Treyaun Webb, two versatile playmakers.
But in recent weeks it seems like the Bulldogs have maybe slowed down a little there to heavily pursue Lehigh Acres (Fla.) Lehigh standout Richard Young, the No. 2 running back in the class and arguably the best-looking player at that position nationally.
In the 2018 recruiting class for Georgia, muscled-up pounder Zamir White and all-purpose standout James Cook joined forces. That same playbook could be coming together in Athens again and while Haynes and Young aren't as dissimilar, Haynes is a better pass-catcher than maybe he's been given credit for.
There have been other names floated around including four-star Jeremiah Cobb from Montgomery (Ala.) Montgomery Catholic and Douglasville (Ga.) South Paulding's Jamarion Wilcox, who has a handful of Power Five offers, but Georgia has clearly laid out which players are at the top of its board.
If the Bulldogs can somehow land both Haynes and Young, watch out. That duo could be more lethal than White and Cook were in Athens. By no means is either a lock – Haynes probably in better shape than Young, who also has Alabama, Ohio State and others high – but both are incredibly talented.
Baton Rouge (La.) Liberty Magnet's Kaleb Jackson visited LSU this past weekend but he's by no means a lock to the Tigers. There might be a sense that they're slow-playing him a little bit and that Texas A&M and some others might have made him a bigger priority throughout his recruitment. There is definitely interest on Jackson's side so this will play out even more in the coming months. Four-star all-purpose back Trey Holly could be the top priority at LSU.
Orlando (Fla.) Edgewater's Cedric Baxter is interesting because it feels like the in-state programs, particularly Florida and Miami, have made the biggest impression on the tall, big back but Ohio State and USC are also right there as well. As for the Buckeyes, they made an absolutely huge impression on Plantation (Fla.) American Heritage's Mark Fletcher over the weekend and should be considered a frontrunner at this point.
Four-star Kedrick Reescano from New Caney, Texas, committed to Michigan State in January but others have not given up. He will visit with the Spartans and Arkansas this week. Vanderbilt, Ole Miss, Tennessee, LSU and USC are pushing as well. Michigan State did a phenomenal job dipping into the Houston-area to land Reescano's pledge but others are not giving up.