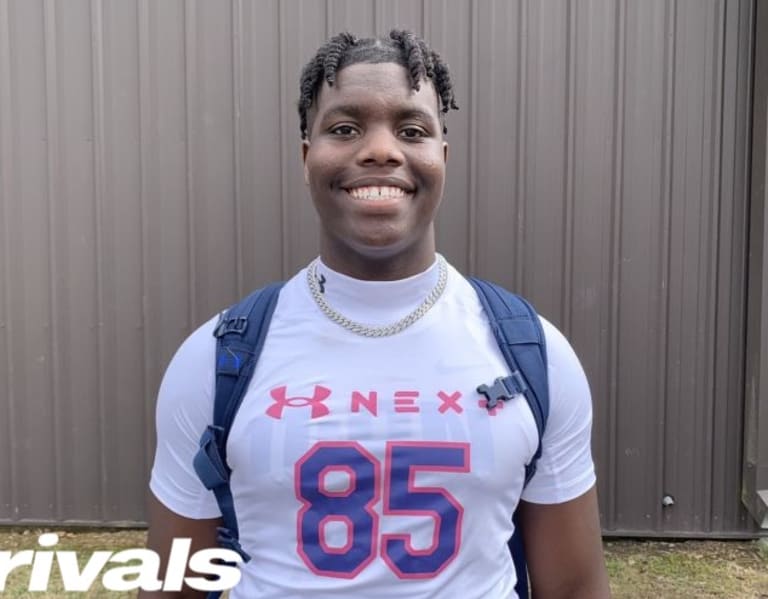 UA Next Camp Atlanta: Offensive linemen stock risers
CARROLLTON, Ga. – In camp settings, defensive linemen usually have the upper hand in one-on-one situations, but that was not necessarily the case on Sunday at the Under Armour Next Camp in Atlanta. Offensive linemen came battle ready but there were still outstanding performances on the defensive side at a loaded event held at Carrollton High School's indoor facility.
*****
In the opening series of one-on-ones, Jacobs was dominating winning back-to-back reps. The 2025 talent showed great footwork moving side to side keeping a strong base with a good bend using his hands to stonewall the defender.
On the recruiting trail, Jacobs holds over 20 offers with teams like Alabama, Georgia, Florida State, Michigan, Tennessee, Penn State, and Texas coming after him.
*****
Another Class of 2025 offensive lineman that stood out was Debose. The Georgia commit lined up at right tackle taking on a speed rush in his opening rep. Stunting the initial move, Debose used his hands and feet to keep the pocket clean.
Debose is another national recruit pulling in offers from ACC, Big Ten, and SEC programs. The Bulldogs landed his verbal commitment on Jan. 16.
*****
The first rep for Short didn't go his way, but the rest of them did. Short quickly adjusted to the speed of the camp getting a pancake on his second snap. During his second two-rep series, Short notched two more wins with his skill and strength.
The big offensive tackle from Evans High School (Evans, Ga.) did so well, he earned an invite to the UA All-America Game.
*****
The Under Armour camps can be a springboard along the recruiting trail for players who come ready to compete, and one of those prospects who can take advantage of the opportunity from Sunday is Isaac Sowells. Hailing from Louisville, Sowells got into the ring holding an offer from Indiana State. The status mattered not because Sowells took care of business.
Playing center, Sowells won his first rep walling off the defensive tackle. On his second go around, he showed more of an interior presence kick sliding on an inside move for the win and was quick on an outside move on the next snap to stop the rush.
*****
Showing they got game in North Carolina, David Sanders rocked his reps on Sunday. His opening series was a showcase getting back-to-back pancakes making a statement. Sanders athleticism shined through using his quick feet and great hand placement in each of his reps.
College teams are seeing Sanders for the talent he is now, and the tremendous upside he still has to his game. Teams have laid 20-plus offers down in front of the Providence Day four-star in hopes of having him be their future cornerstone tackle.
*****