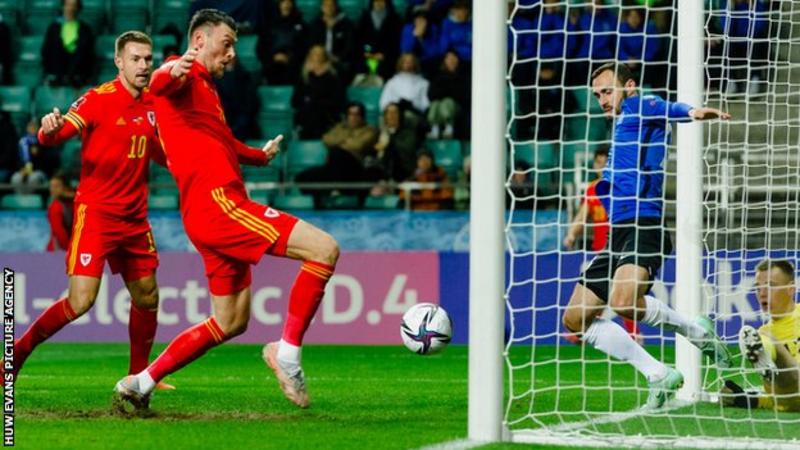 Wales overtook Estonia with an unconvincing win in Tallinn to keep hopes of finishing second in the World Cup qualifying group in their own hands.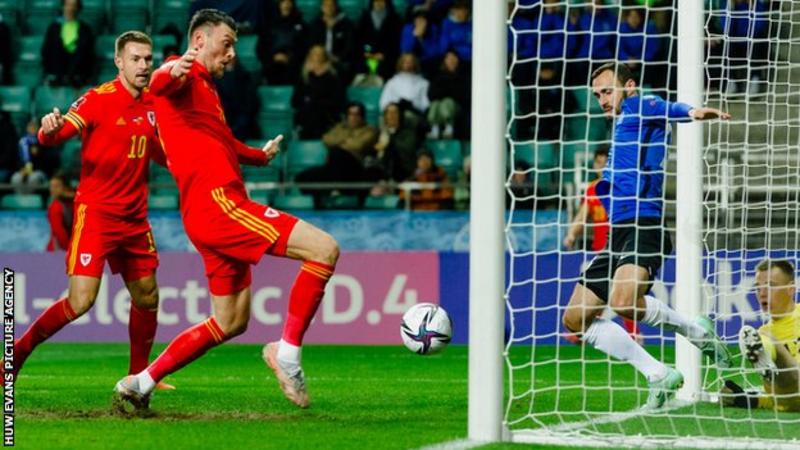 Kieffer Moore stood out from a meter to allow his offensive, but defensively shaky team to lead at halftime.
They became increasingly disjointed in the second half and were fortunate enough to maintain their lead as Estonians Erik Sorga and Mattias Kait missed good opportunities.
The hosts, who are ranked 111th in the world, pushed hard for the goal that would have earned them a second draw in a month against Wales, but Robert Page's side held on to a decisive win.
The 2-0 win in Belarus keeps the Czech Republic in second place in Group E, ahead of Wales due to the goal difference, but they have played one more game.
With Belgium almost certain to secure the only automatic qualifying spot as group winners, Wales see the play-offs as the most realistic route to a first World Cup finals since 1958.
Their success in the Nations League already guarantees them a play-off spot, but a second in this qualifying group could mean a better draw in the knockout round.
Wales will end their regular qualification next month with home games against Belarus and Belgium, while the Czechs will host Estonia in the final game.
https://www.guilded.gg/Regarder-Venom-2-Film-complet/overview/news/A6jDvDZR
https://wakelet.com/wake/tRDjxvuCkqytHTyjO1cvi
https://www.guilded.gg/Venom-2-La-furia-di-Carnage/overview/news/A6e8MbLl
https://wakelet.com/wake/6lVMavser3J01uwZYgeM7
https://www.guilded.gg/Ganzer-Film-Venom-2-Deutsch/overview/news/4lGkWwPl
https://wakelet.com/wake/Xd5IVRJj5GUFQmWaDCd5g
https://www.guilded.gg/Venum-2-Celiyat-film-bg/overview/news/16Ygb31R
https://wakelet.com/wake/WJABYsb1RcTA19cKWQT7i
https://www.guilded.gg/Venom-Let-There-Be-Carnage-HD/overview/news/PyJ1Dw56
https://wakelet.com/wake/yJVs-gF_xOoVQgkW06-Y7
https://www.guilded.gg/Venom-2-Carnage-prichadza/overview/news/2lM0o3ZR
https://wakelet.com/wake/bubwyS9y7NdG9LyTlxXwA
https://www.guilded.gg/Ver-Venom-2-Habra-matanza/overview/news/Yyr8axEl
https://wakelet.com/wake/o8GFOI-oH6nm5HZ2wZUv-
Wales attack but shaky behind
If Wales and the Czech Republic finish with the same points, second place will be decided by goal difference.
With that in mind, Wales coach Page said his side would go all out in Estonia to avoid a repeat of the frustrating goalless draw in Cardiff last month.
Page backed up his claim by picking an offensive line-up in Tallinn, calling back playmaker Harry Wilson and giving Huddersfield winger Sorba Thomas, who was not in the league nine months ago, a first start.
Estonia appeared to have similar intentions when Taijo Teniste registered the first shot on goal of the game after just 40 seconds – one of the few opportunities offered to the home side by an occasionally erratic Welsh performance in the first half.
Despite their defensive nervousness, the guests were still the dominant force, Wilson shot a free kick just over and Connor Roberts saw a fine curling performance that was well kept by Karl Hein.
From the resulting corner in the 12th minute, Joe Rodon and Aaron Ramsey headed strokes sparked a scramble that resulted in the ball falling on Moore, who pushed him over the line from a meter away.
Moore was then saved by Hein as Wales continued to charge forward, but, as on Friday in the Czech Republic, Pages' side also found themselves in trouble.
The pass of the half was unintentional as Wilson passed the ball straight to Sergei Zenjov, who finished off Danny Ward, but the covering Rodon was there to clear the line from within his own penalty area.
Bloody Wales, hold on
The more sloppy Wales' performance became, the less it was about improving the goal difference and more about maintaining the win.
Estonia also threatened an unmarked Sorga in the second half, which narrowly missed after a Markus Poom free kick before Kait could only shoot Ward from a promising position.
While the defense was still porous, Wales also lost as an attacking power.
They might have received a penalty when Marten Kuusk's rowing arm gave Moore a bloody nose in the Estonia penalty area, but although referee Sandro Schar dismissed Kuusk, he did not give Wales a penalty after Moore committed the first foul.
Estonia's confidence grew and substitute Vlasiy Sinyavskiy almost equalized in the 77th minute with a bow that was turned away by Ward.
A rare Welsh counterattack then saw substitute Mark Harris parry a shot from Hein, but Page's men spent the closing stages on their heels.
They managed to fend off Estonia's late attacks and despite the frustration over another mediocre performance against Estonia, it was still a valuable win to help prepare Wales for the final two group matches at Cardiff next month.