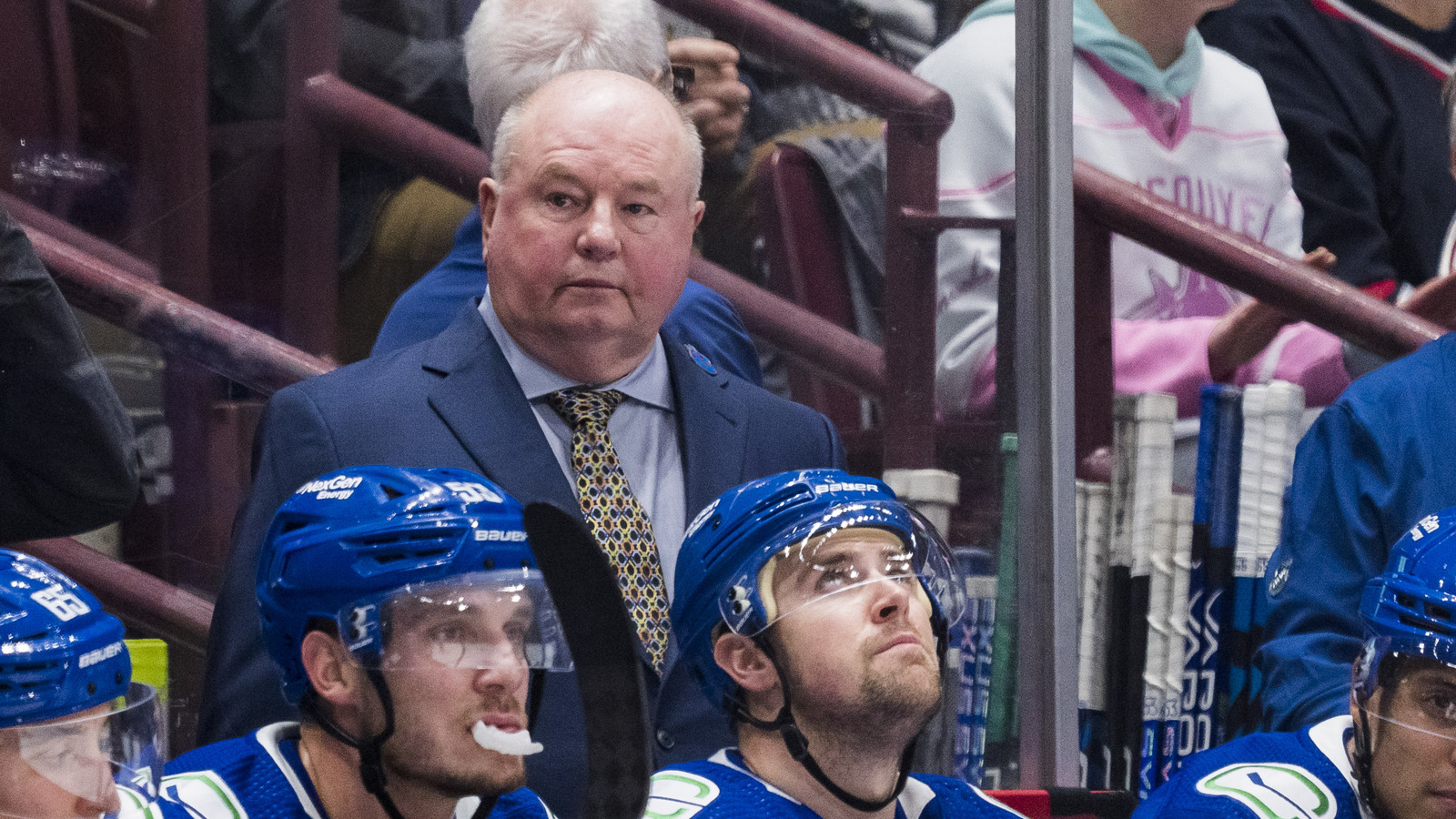 Who would want to be a Vancouver Canuck right now?
If the Vancouver Canucks are trying their best to make every player want to leave town, they're doing a pretty good job. Because this season has been one trainwreck after another.
It's the middle of January and here I am writing yet another article about how the Canucks have bungled something. And in this case, it's the treatment of their own (now former) head coach Bruce Boudreau and his assistant, Trent Cull.
Sometimes I sit down to write these things and I think to myself, "Who's this going to anger? How might this affect my future in hockey?" And truthfully, I'm sick of doing that. I'm done worrying if my opinion is going to upset someone in management or league circles.
So here it is.
I can't imagine how any Vancouver player feels good about being a Canuck right now. From the miserable season on the ice, to the way players and coaches have been treated by management, it's been an absolute joke. And I don't know how Vancouver plans on repairing a tarnished image.
A few days ago when Boudreau was a dead man walking as coach of the Canucks – and everyone knew it – Vancouver Defenseman Tyler Myers said bluntly that he'd never seen anything like what was happening in his career.
Now, first off, that shows Myers never played in the minors. I saw some wild stuff riding the iron lung around North America over the course of my career. But Myers is currently playing in his 14th NHL season. He's seen tough times in Buffalo. And in Winnipeg. And now in Vancouver. 
Yet nothing he experienced in those cities comes close to what he's experienced in the past week as a member of the Canucks. And Myers said that all the outside noise – that Vancouver management refused to take any blame for during Sunday's press conference – was affecting the team's play on the ice.
I can tell you first hand, his comments were very pointed. To basically call out your management for the circus that's been created isn't something players generally have the stones to do.
It reminded me of the movie Slap Shot, when Charlestown Chiefs goaltender Denis Lemieux called his agent while on a road trip. 'Trade me right f***ing now,' he said.
And it wasn't an isolated incident. Less than two weeks ago, defenseman Quinn Hughes straight up told reporters that Tanner Pearson's hand injury wasn't handled properly.
Let's see: what else?
How about the time Vancouver tried to healthy scratch forward Brock Boeser on Hockey Fights Cancer night, when his father, Duke, passed away from the disease just six months before?
Then there's the allegations that Vancouver Assistant General Manager Emilie Castonguay made discriminatory comments against then-Canucks analytics department member Rachel Doerrie.
What about the Canucks offering Bo Horvat a lowball contract this offseason, then doubling down on their trash offer with another gutter bomb in-season? What a message to your team. 
Horvat is having a career year, he's the captain of the team, and the Canucks are crying over not having cap space. All this despite having signed forward J.T. Miller to a massive, seven-year, $56 million contract extension a year in advance of when he was set to hit free agency.
I could go on and on with the missteps and brush fires that have engulfed the Canucks in recent memory. But a lot of those things are petty compared to how Boudreau was treated.
I hated that Vancouver left Boudreau dangling in the breeze for the better part of two months. And judging by his comments Saturday night, I'm guessing he feels the same. He said that he thought it was over in November.
Remember November? When Canucks President of Hockey Operations Jim Rutherford ran the bus over Boudreau, then backed it up over the Vancouver coach a few times for good measure?
It was worse than what Arturs Irbe used to do to his pads to break them in. Legend has it that the Latvian goalie used to have the team bus run them over to soften them up.
Well, the Canucks didn't soften Boudreau, who kept showing up to work like a pro. Only he wasn't treated like a pro. He was reduced to a placeholder until Rick Tocchet could be hired as the team's new head coach.
I'm not going to sit here and act like Vancouver has been good this season and Boudreau shouldn't have been fired. The Canucks have been horrendous defensively. I understand the move from a business standpoint. But for someone like Boudreau who came in last season and jumpstarted the Canucks, it was a sorry sendoff. Cold as could be. And way short of what someone Rutherford considers 'a friend' deserves to receive publicly.
During Sunday's presser, Rutherford showed some remorse. "I will apologize to Bruce for this: in my interviews over the year when I was asked a question, I was probably too direct and honest," Rutherford told reporters. "So I'm going to zip it. I'm going to let (GM Patrik Allvin) and Rick talk about the team."
Too little, too late. The damage was done despite the public apology. Repeatedly undercutting a coach, then letting him walk the plank for two months was just wrong. And I think it will have ramifications on who wants to play in Vancouver.
Do I think free agents view the Canucks in the same way they did two years ago? No chance. Vancouver's always been a desirable destination. It's a nice city. Yeah, the fans can be intense. And the media presence is heavy. But players generally speak fondly of their time there.
This entire situation reminds me of where the Ottawa Senators were during the offseason leading up to the 2018-19 season. There were off-ice issues. There were contract squabbles. The team wasn't very good. And the owner – the late Eugene Melnyk – couldn't keep his hands out of the pie. The problems started at the top and trickled down.
I went into that offseason with the Senators dead last on my list of teams that I wanted to play for. 31 out of 31. There was so much drama off the ice. And I'd already been burned by the organization once during the 2011-12 season – which is a story for another day.
Yet when free agency came around, guess who was calling? Ottawa. Only Ottawa. If I wanted to play another year of professional hockey, the Senators were my best bet. They were offering a contract on the first day of free agency and I didn't want to risk waiting for another NHL team to come around.
So despite all my trepidation, I took the deal. And it was a colossal mess. The 2018-19 NHL season might have been the highwater mark for calamity in the Senators organization. It was more than dysfunction. It was downright ridiculous some of the things that transpired.
I wasn't alone in wanting to avoid Ottawa. The Senators went years without signing a marquee free agent until forward Claude Giroux decided to play for his hometown team this past offseason.
The hard truth is that only desperate free agents ended up in Ottawa for a long time, which stalled the progression of the franchise. All that negativity surrounding the team was damaging.
I think Vancouver is facing that same reality. Rutherford has already said major surgery is in order, and players are going to be traded. Or bought out if deals can't be reached.
I tell you what, he better make good on that. Because I can't imagine there are many players in that locker room feeling wanted right now, save for maybe Elias Pettersson and Quinn Hughes. 
And even then, those players aren't stupid. They've seen how Boudreau was treated. How can they feel confident in Vancouver management doing the right thing after witnessing the messy, slow-motion dismissal of the team's head coach?
They can't. They won't forget. And I think there's going to be plenty of free agents that just crossed Vancouver off their list of desired locales.
New Canucks head coach Rick Tocchet has a project on his hands. With all the changes bound to take place in Vancouver over the next few months, I have a hard time believing the Canucks will challenge for the Stanley Cup any time soon.
But I do think Tocchet's hiring will be a collective sigh of relief from inside the room. Firing Boudreau – as much as the players felt it was their own fault – effectively ripped the bandaid off. It had to happen.
And let me be clear. I really like Rick Tocchet. He was my first head coach in the NHL as a member of the Tampa Bay Lightning. I've enjoyed every encounter with him since that 2008-09 season. Vancouver has a quality coach in Tocchet that I do think will help stabilize the franchise.
But what transpires next is a tough guess. Maybe Tocchet will be able to round the Canucks into defensive form. But does Rutherford really want that? The Connor Bedard sweepstakes are well underway. And the Canucks have a shot at landing the expected first overall pick in the 2023 NHL entry draft.
The bottom line is that the reputation of the Canucks has taken a serious beating this season. Players will second guess going to Vancouver. And the worst part? All the trauma was self-inflicted.