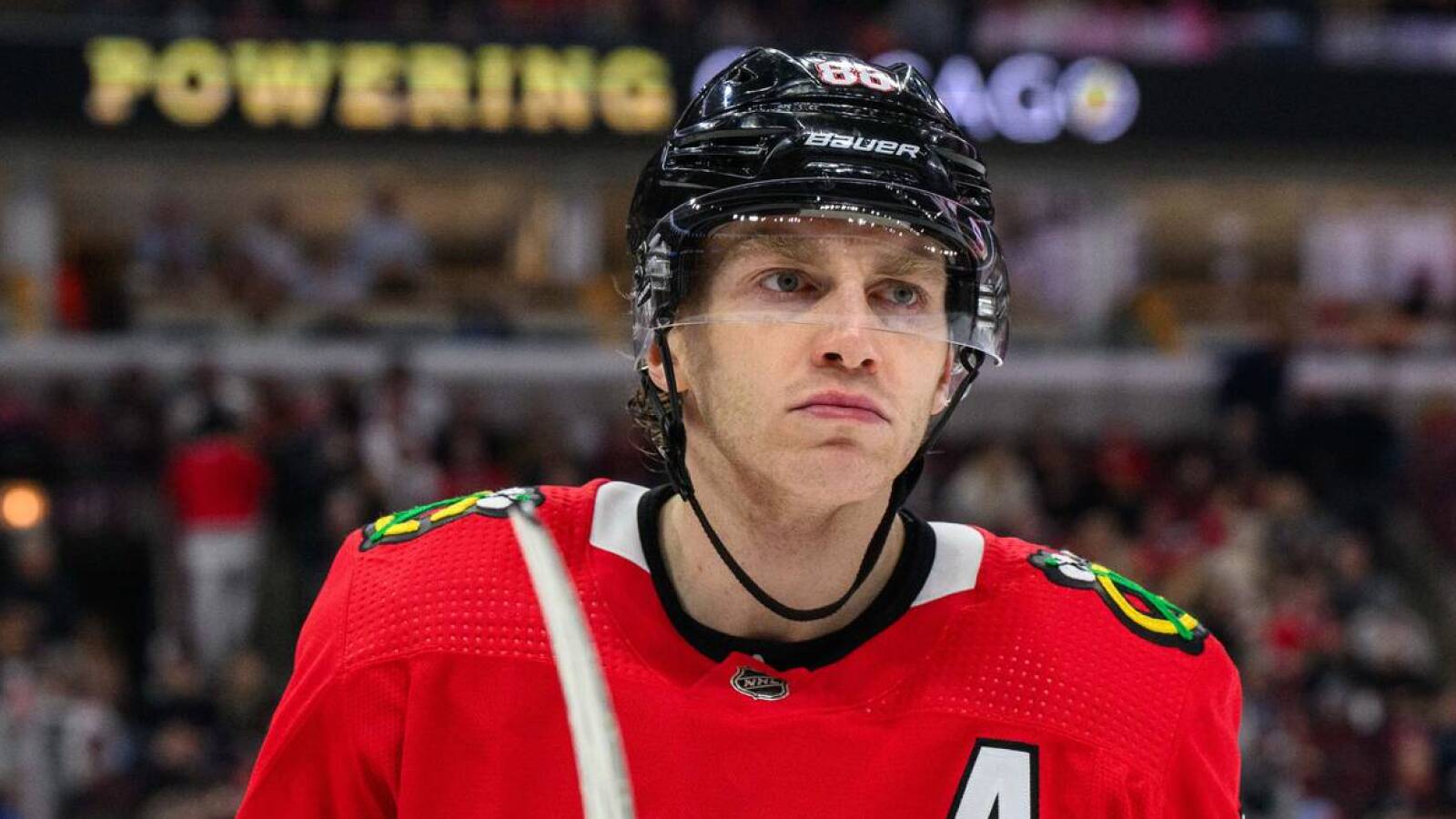 Will Blackhawks' Patrick Kane be traded at the deadline?
With just over four weeks until the NHL's March 3 trade deadline, we've got you covered every day at Daily Faceoff with one trade-focused story leading up to Deadline Day.
Today we're going to do a deep dive on Chicago Blackhawks icon Patrick Kane, who will be contemplating trade possibilities as the No. 4 ranked player on our Trade Targets board.
2023 trade deadline countdown: 31 days
PATRICK KANE
Right wing, Chicago Blackhawks
Shoots: right
Age: 34
Height: 5'10" | Weight: 177 lbs.
Cap Hit: $10.5M
Term: Pending UFA
Trade Clauses: Full 'no-trade,' complete veto power
Stats: 45 GP, 9 goals, 25 assists, 34 points, 19:48 avg TOI
Career: 16th season (all with Chicago), 1152 GP, 439 goals, 1214 points, 20:18 avg TOI
Archetype and ideal role
Franchise player. First line facilitator, first unit power play.
Players of Kane's ilk so rarely become available. There are only 17 "Franchise players," according to our Daily Faceoff Archetype series, and Kane ranked No. 13 in the game's most elite player category.
Scouting report
There is nothing left for Kane to accomplish at the NHL level. His trophy case is full: three Stanley Cups, Hart Trophy, Conn Smythe Trophy, Art Ross Trophy, Calder Trophy and the NHL's Top 100 anniversary team. He could have hung up his skates seven seasons ago and still been elected to the Hockey Hall of Fame on the first ballot.
Kane's game is so iconic that you can rattle off details about his style of play without blinking. The question teams are attempting to answer is: Where is his game now at age 34?
We'll tell you. His vision and hands are still the best in the league. He anticipates and moves the puck to areas quickly to take advantage of space. His deception is off the charts, utilizing his quickness to escape pressure in-tight and gain enough of an edge in open ice where he creates space to be dangerous.
One thing somehow under-appreciated about Kane is that his shot is also incredibly deceptive. His backhand is lethal, especially coming down on his off-wing, and his hands and anticipation allow him to catch and release pucks with great accuracy, which makes up for a lack of pure power.
Full stop: Kane is an assassin. But this year, he is in the midst of a slump. He is south of a point-per-game for just the second time in the last decade. His shooting percentage is a career low. He is playing two fewer minutes per game. 
Are those things an aberration because of this unusual season and the noise surrounding his potential exit from Chicago? Is the slump a result of the players he's playing with? Is it a result of his recent nagging injuries? Or are we watching the beginning of the end of one of the game's all-time greats?
Buyer beware
Let's work through those questions one by one.
Kane has been a play-driving winger his entire career, capable of powering that line no matter who he is playing with. No matter who Chicago has rolled out with Kane, he has produced in a big way. This season that hasn't been the case. 
Linemates Max Domi and Andreas Athanasiou have been having mini-revival seasons in Chicago. And Kane has certainly played with worse players. He has also not been very lucky. With multiple seasons shooting north of 16%, the career 11.5% shooter is scoring at a rate of half that this year (6%).
Perhaps the biggest factor is Kane has been dealing with some nagging injuries that caused him to sit out three games this season. Watching his shifts closely, you can see that he isn't quite 100%. He doesn't have the same 'pop' to break away from defenders and create open space.
Next, the mental toll that all athletes go through when change is potentially on the horizon is absolutely real. Kane has been woven into the fabric of Chicago since 2007. There will be statues of Kane and Jonathan Toews outside the United Center one day and his jersey hanging in the rafters. 
Kane's family has made the move to Chicago from Buffalo, they're all rooted there. His dad is frequent visitor at morning skates, practices and even road games. Leaving all of that behind and heading into the unknown of another uniform and another city can weigh any player down, preventing him from being at his absolute best night in and night out. 
Yes, Kane holds all the cards here with the full 'no-trade,' but deep down he likely knows what is best for the team and that has to weigh on him. Those factors are real and cannot be discounted.
All in all, it's likely a combination of all of the above that has been weighing down Kane's production this season relative to his career.
Potential fits
One thing to keep an eye on: If Kane is traded, those close to him wonder whether he is going to want to move twice, so the security of an extension may be very important to him. Consider that prism through which you view the fits below.
Chicago Blackhawks: It cannot and should not be ruled out that Kane decides to play his contract through, chooses to not uproot his family, and reassesses his options this summer when free agency begins.
New York Rangers: The mutual intrigue has been there. The idea of making Showtime the starring attraction on Broadway, while reuniting him with former running mate Artemi Panarin, just makes too much sense. But I'm not sold that Kane is the Rangers' No. 1 target. I believe that is San Jose's Timo Meier.
Vegas Golden Knights: Team that likes to make a big splash? Check. Team that needs a right winger? Check. Team that may have $9.25M in cap space if Mark Stone is out for the season? Blackjack. It's pretty easy to envision Kane and Eichel glittering in all that is gold.
Los Angeles Kings: The Kings are such a fascinating team. They've got depth everywhere. They're just beginning to open their championship window. Kane would make sense on a number of levels, but maybe not the long term? Or does he? Los Angeles certainly has the picks and prospects to pull it off, and Kane would add to the starpower in Tinsel Town.
Toronto Maple Leafs: Toronto is close to the border with Buffalo. He made a name for himself just down the road in London. And he could skate alongside Auston Matthews, maybe the two best American-born forwards of all-time on the same line. Wonder what that would do for a long-suffering fanbase?
New Jersey Devils: If not New York, what about across the Hudson River in New Jersey? The Devils have been clear in their pursuit of a top-six winger. Everyone assumes that is Timo Meier to play next to fellow Swiss native Nico Hischier. But fellow American Jack Hughes, who is having an unreal season, is currently playing with Fabian Zetterlund. Would Kane go to New Jersey?
Dallas Stars: The Stars would be a bit of a darkhorse for Kane. They're right on the cusp of that Stanley Cup contender status and Kane might put them over. Can't rule out GM Jim Nill taking a big swing.
Comparable trade returns
This is a trade return that is incredibly difficult to handicap. We don't have knowledge yet on how many teams Kane would entertain, or how many he would allow the Blackhawks to negotiate with. That could impact the return – if Kane only allows the Blackhawks to talk to one team and that team has knowledge of that, it could limit what comes back to Chicago. An extension may also impact the return.
Nonetheless, here are a few potential comparables to consider:
March 19, 2022
To Florida: Claude Giroux, German Rubtsov, Connor Bunnaman, 2024 5th Round Pick
To Philadelphia: 2024 1st Round Pick, 2023 3rd Round Pick, Owen Tippett
December 6, 2019
To Arizona: Taylor Hall, Blake Speers
To New Jersey: Nick Merkley, Nathan Schnarr, Kevin Bahl, 2020 1st Round Pick (Dawson Mercer), 2021 3rd Round Pick (Ryder Korczak)
February 22, 2019
To Columbus: Matt Duchene, Julius Bergman
To Ottawa: Vitaly Abramov, Jonathan Davidsson, 2019 1st Round Pick (Lassi Thomson)
Summary
Patrick Kane is still elite, one of the very best players in the world, who has a skillset and ability that could keep him a productive player until age 40. There is plenty left in the tank. 
And he'd be an assassin for any acquiring club hoping to add a fourth Stanley Cup to his trophy closet. The rub is whether he'll be willing to leave Chicago behind.